November Battle, I Mean Meeting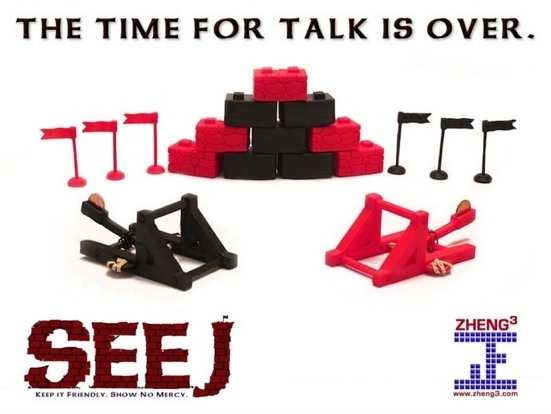 This Wednesday, November 13th there will be no plastic spared and no quarter given (just pennies) as we meet on the field of battle (AS220 Labs). The walls of plastic will be built and swiftly destroyed by the rain of skillfully aimed pennies, for this is Seej and no place for the weak!
Seej is a fully 3D Printed game by Jim "Zheng3". Players can expand upon the game using the many different models created by Jim and other members of the community or even create their own war machines to bring into battle. We will be holding a small tournament to see who is the true master of the plastic battle field, so be sure to arrive on time or you will be left as a spectator. To keep things fair we will only be using pieces from the main battle set in our tournament, but you are more than welcome to bring your own printed armaments to enjoy side skirmishes.
This is going to be a fun social meeting so if you have never joined us before, this is a great opportunity to do so. We will also be collecting any additional parts that any of our community members have created since our last prosthetics meet up. These will be bundled up and sent to Africa to meet up with our first batch of hands that are already there.
The meeting will start at 7pm with the battles beginning shortly after. This meeting is free and open to everyone but if you feel like bringing drinks, snacks, beer, etc to share with the rest of the group that would be greatly appreciated!