January 2019 Meeting: Bring Your Printers!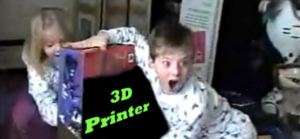 So you got a new 3D printer for the holidays, you unpacked it, tried setting it up, downloaded something from Thingiverse, but you just aren't getting the results you hoped for. We are here to help! Stop by Ocean State Maker Mill this Wednesday, January 10th, to get some help from our team of experienced experts with your new printer.
Didn't get a new printer but want some help tuning up old faithful? You are invited too – in fact, EVERYONE IS INVITED!!!! If no one comes with printers, we will hang out and talk about other 3D printing related subjects because we love this stuff (and we have a ton of printers we can show you).
The meeting starts at 7pm and will run till at least 10. You don't have to come for the entire time if you are not a night owl, and don't worry if you are running late, this one will be super informal. Ocean State Maker Mill is located at 80 Fountain Street in Pawtucket but our entrance is around back in the back of the lot located at the corner of Middle and Blackstone, look for the door under the fire escape. We hope to see you there and can't wait to see what Santa Claus brought you.